The fourth day of the George Huguely was dominated by testimony from friends of George Huguely and Yeardley Love, talking about a culture among one segment of the University of Virginia student community more reminiscent of an early afternoon soap opera than of one of the country's best institutions of higher learning.  According to their friends, called as witnesses for the Commonwealth, their world was one of alcohol, promiscuity, jealousy, anger and fighting.  I don't need to rehash it all — if you want, look at WVIR's website for the witness-by-witness detail.  It brings to mind a quote from Chef on South Park — "There is a time and a place for everything.  It's called college."  In my on-the-air commentary for WVIR today, I mistakenly attributed the quote to Homer Simpson.  My bad.
The problem for a lawyer in a murder case — either prosecution or defense — is to figure out how to deal with the reputations of the defendant and the victim.  Within days, the photos appeared — George Huguely in his UVA lacrosse jersey, gray t-shirt visible underneath, hair disheveled, just a hint of a smile; Yeardley Love in what I assume was her UVA lacrosse jacket, makeup and hair perfect, beautiful smile, looking stunning.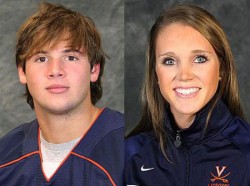 Within days, stories emerged of George Huguely getting drunk, of George Huguely having to be tased by a Washington & Lee campus police officer.  At Yeardley Love's funeral, according to press reports, more than 2,000 people turned out in Baltimore.  Her UVA lacrosse coach, Julie Myers, eulogized her:  "Love, as a player, was able to make everyone feel happy since she was gentle and kind in nature though she was a tough player in the field… She had a lion's heart while playing for her team."  On the other hand, UVA men's lacrosse coach Dom Starsia could only say, "I never knew about the incident at W & L.  If I had known, maybe I'd have done something."
The popular wisdom, at least in Charlottesville, was that Yeardley Love was practically perfect, and that George Huguely was a drunken and abusive lout.  The caricatures were so intense, some of us wondered, "What was a girl like Yeardley doing with a jerk like George?"  To put it a little differently, "What kind of monster would hurt someone so beautiful?"  But in this case, as in all cases, the story is much more complex.
Remarkably, the complexities are coming right from the start, from the prosecution witnesses.  It is not necessary for the defense to "blame the victim" — the prosecution witnesses are setting up that argument for them.  We learned from the prosecution's opening statement that Yeardley Love's blood alcohol level was .16 to .18, consistent with drinking at least 8 to 10 beers and at least twice the legal limit for driving.  That evidence will come in through a Commonwealth exhibit, and will be amplified by a Commonwealth witness, the Medical Examiner or the toxicologist associated with the state Forensic Laboratory.  We learned today — from Commonwealth witnesses — that Yeardley Love and George Huguely were both unfaithful, both jealous, both capable of anger and violence toward the other.  We learned that they were both capable of getting drunk, both capable of gratuitous meanness to the other.  Yeardley Love apparently had sex with a UNC lacrosse player, and then told Huguely that the other guy was better in bed.  How does that square with the beautiful angel in the picture?
Clearly, the Commonwealth's theory of the case is that George Huguely was jealous, angry, drunk, and violent.  But they can't make that case without the evidence coming out that Yeardley Love was capable of being all of those things as well.
In looking at this kind of evidence, we need to look at two facets of the trial — the emotional and the legal.
A few years ago, I represented a young man who, with a cousin, robbed and killed a young woman to get money to buy marijuana.  They were poor, from a family that epitomized "dysfunctional."   I had represented many members of their extended family, on a wide variety of charges of varying degrees of seriousness.  Our firm had served as guardian ad litem for kids in that extended family.  They were "frequent flyers" in the legal system.  The young woman whom they killed was a University of Virginia graduate who was working to organize fundraisers for nonprofit organizations.  She was smart, pretty, altruistic, and from an upper-middle-class family that was very articulate and presented very well.  My client pled guilty, hoping to persuade the judge to give him less than a life sentence.  One after another of the family of the victim came forward to talk about the impact that her death had had on the family, and one after another praised the victim.  Lots of tears were shed.  We on the defense side could only talk about his terrible family background, and we presented the testimony of a psychologist to explain how the defendant never had a chance in life.  Tears won.  The Commonwealth, and the victim's family, clearly controlled the emotional atmosphere that day, and the judge gave my client 5 life sentences and about 25 years — to be served consecutively.
The subtext to this kind of sentencing hearing is the emotional weighing of one life against another.  I say that it is "subconscious," because no one says it.  But it is every bit as real as the sun streaming in through the windows.
By contrast, I represented another young man of about the same age as the previous case who came from a family that was almost as dysfunctional.  He killed another young man in a gunfight down in a housing project.  The victim was innocent — he was just in the wrong place at the wrong time, hit by a bullet that surely hadn't been intended for him.  But that victim was young, black, uneducated, and from a poor family that was not articulate.  At the sentencing hearing, there was no victim impact testimony.   The emotional atmosphere was very different.  There were no tears or emotional weighing.  The jury recommended a sentence of 13 years.
Now, there were a lot of differences between those cases to justify at least some of the wide discrepancy in the way in which the cases were handled.  But the emotional atmosphere in the courtroom was the biggest difference, in my eyes.  That emotional difference was partly responsible for my client being convicted of only second degree murder, and was largely responsible for him receiving only a 13 year sentence.
How about the legal side of things?  Legally, there is no difference.  It is wrong to kill someone who is drunk, just as it is wrong to kill someone who is sober.  If a couple is arguing over infidelities, no one has the right to hit, much less kill, the other.  The jury instructions will not say, "If you liked the victim, this is first degree murder; if not, it is manslaughter."
But this is a circumstantial evidence case.  And what circumstances might matter to a jury's analysis of the case?
1.   If the Commonwealth is successful in portraying George Huguely as violently attacking an innocent girlfriend in a drunken rage, it begins to look like an act of malice, and, as the jury will be instructed, the difference between murder and manslaughter is that if a killing is with "malice," it is murder; if the killing is without "malice," it is manslaughter.
2.  It appears that the medical evidence will show that Yeardley Love had injuries to the blood vessels in her neck that are consistent with an attempt to strangle her, or at least to put her in a choke hold.  If she was actively fighting him back, or if she even began the fight (remember, just days before she had whacked him with her purse — she was not apparently a pacifist), the injuries are more readily explicable than if she did not put up a fight.  A killing in mutual combat, under Virginia law, may be manslaughter.  If the jury believes that there was mutual combat, they would not find him guilty of murder.  George Huguely's statement to the police was that they were fighting, and the defense has suggested that the  "thud" that neighbors heard was when Huguely and Love hit the floor as they wrestled.  The defense has suggested in opening statements that the injuries to the neck occurred as they wrestled.  If the defense can raise a reasonable doubt about whether the injuries are consistent with them wrestling in mutual combat, that sounds like manslaughter.
3.  She was drunk, and a toxicologist will say that at a high BAC, she might act differently — she might become violent when drunk even though she wouldn't become violent when sober.  St. Yeardley becomes less saintly after 8 or 10 beers.  So her drinking is relevant to the question of who started the fight.  Her reaction — particularly her drunken reaction — to his infidelities could also be relevant to how the jury sees their argument.
There is another thread that I would expect to float around the jury room; it already floated around the courtroom in voir dire — that UVA students, and UVA athletes in particular, behave as though they are privileged, drinking and partying and hooking up in ways that are at least unsympathetic and perhaps disgusting.  In this view, what happened here is between two rich preppy kids from Maryland, and yes, it's sad, but geez!  If that is what goes on "over there", why should we on the jury care about their jealousies?
The prosecution is hoping that the dynamic in the jury room is "What kind of monster would kill this beautiful, inspiring athlete with so much promise?"  The defense wants a very different dynamic:  "Yes, it's sad that Yeardley Love died, and we feel great sympathy for her mother and sister, but George Huguely is no worse than Yeardley Love and let's not compound the tragedy by ruining a second life."
Oh, and remember the photos, and how Huguely looked like a big lout?  Contrast that picture with this picture of him from Monday, entering court.  I hear that he was 6'2″ and 210 pounds at the time of the killing.  He can't weigh more than 180 now.  He doesn't look scary or thuggish now.