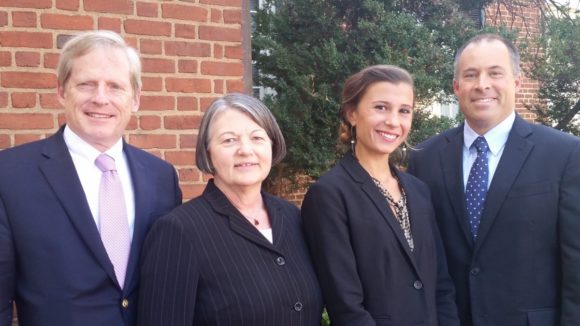 From left to right — Lloyd Snook, Sheila Haughey, Alexandra Heilbronner, and Jake Joyce
We are criminal and civil trial and appellate lawyers serving Central Virginia.   Our practice is concentrated in the following areas:
Criminal Defense – From speeding tickets to state and federal misdemeanors and felonies to capital murder, we've been helping people charged with crimes for more than 30 years.
Divorce, Custody and Adoption – We represent both men and women in all types of family law situations.
Accidents and Personal Injury – 30 years of experience with all types of accidents and injuries.
Civil Litigation – Construction contracts, real estate, denial of insurance, will contests, etc.
Appeals – A proven record in all appeals courts, including the Virginia and U.S.  Supreme Courts
Restoration of civil rights – If you have been convicted of a crime and have completed your probation, you may be eligible to have your voting rights or your gun rights restored.
Restoration of driver's license  — If you have lost your driver's license for drinking offenses and can show you have been sober, we can help you get your license back.
Expungements — If you were found not guilty of a crime, and the fact that that charge is still on your record is holding you back, you may be eligible to have it taken off your record.
End-of-life planning — Wills, advance medical directives, and estate administration.
We regularly practice in courts across Central and Northwest Virginia.  In the past few years, our lawyers have practiced in the courts in the cities of Charlottesville, Danville, Lynchburg, Staunton, Waynesboro and Winchester, and in Albemarle, Augusta, Buckingham, Culpeper, Fluvanna, Greene, Louisa, Madison, Nelson, Orange, Prince Edward, Rockingham and Warren Counties.  (We also go to other courts in the Commonwealth if our clients wish.)  We handle appeals to the Virginia Court of Appeals and to the Virginia Supreme Court. We also practice in the United States District Court for the Western District of Virginia, and we handle appeals to the Fourth Circuit Court of Appeals and to the United States Supreme Court.
We became lawyers to help people who need help.  Call us at 434-293-8185, and let's see if we can help you.